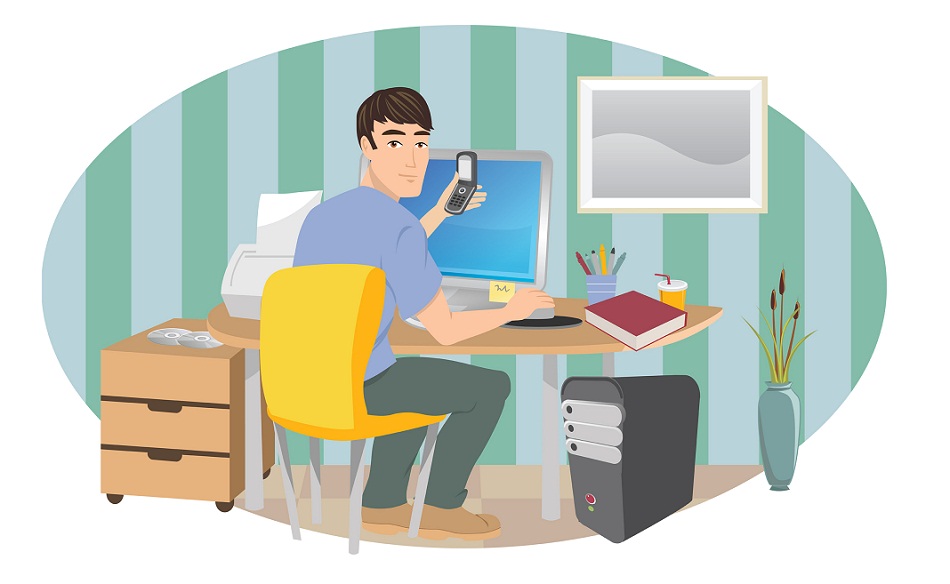 Credits to bookboon.com for the image.
Hi! I'm Gabby Dizon, CEO at Altitude Games. I'm here to talk about how to best create a work-from-home setup for your company.
The practice of employees working from home has been around for a while, but up to now, people only use it occasionally or as an exception to the rule. I've been working for the past 10 years with remote teams across different countries and time zones, and it takes a shift in mindset from the traditional office-based mentality if you want to operate a remote team successfully.
With the current traffic crisis in Manila as well the as global war for talent, most companies (especially startups) should take advantage of the wonders of the Internet and be able to work with talent from anywhere in the world.
EDSA traffic, a true test of one's patience. Sadly, it's not going to get better anytime soon. Photo credit: Inquirer.net
Here are some principles that I advise first-time remote workers to follow when setting up their team or company for a remote working structure:
1.
The online chatroom is your office.
The biggest complaint I hear about a work-from-home setup is: "But I want to be able to look over someone's shoulder and quickly comment on what that person is doing!" This is a function of thinking work primarily happens offline, face-to-face. To allow some or all employees to work from home, the online chatroom must be your primary mode of communication. You don't want those people at home to miss out on office discussion happening offline (and consequently become less productive). This is not a problem for purely remote teams, as they have no physical space to begin with.
Suggested tools: Hipchat, Slack
2. Project management is essential.
If you are managing remote teams via never-ending Gmail threads, then you are likely to get something wrong and put the project at risk. There are plenty of project management tools available online, from kanban boards to more structured agile project management software. There is no one-size-fits-all solution for each team, and it doesn't really matter which one you use, for as long as it works for your particular use case. Running remote teams without one will leave you unable to scale.
Suggested tools: Trello, Asana, JIRA Agile
Check this link for more tools
3. Create a shared culture.
Culture is a byproduct of what happens while people work together in a common setting; this is as true online as it is offline. Don't be reactive and let your culture just form; it should be a reflection of the values that you want to espouse in the company. At Altitude Games, it's extremely important for us that our team members have fun at work, but can still pursue their personal interests outside of it. That means people work extremely hard, but have the freedom to work wherever they want, and declare their own leaves as they see fit. Everyone has fun just hanging out on the different chat channels, and genuinely enjoys each other's company.
What we do in our free time: Games, martial arts, freelance illustration
Our animator Nacho from Okinawa during his typical day at work. True Story.
4. Office hours matter.
It's important to maintain "office hours", where team members have to be online and available for communication. This may vary for each company; for us, it's 10 am – 6 pm Manila time (GMT +8). Many people prefer to work late at night or even early morning when it's quiet; they are still free to do the work when they are feeling most productive. However, everyone needs to be available to communicate and collaborate during our office hours. When we hire people from outside the Philippines, we take this as a major consideration. This means we prefer hires that live in time zones near the Philippines.
Where we live: Manila, Pampanga, Olongapo, Kalibo, Okinawa (Japan)
5. Meet face to face!
There is no way to replace the feeling of meeting another person face-to-face and bonding with each other. That said, it doesn't have to happen every day! We maintain a small office in Makati City, with communal tables where team members can have meetings, brainstorm new ideas, or simply want to work together. We also gather regularly for communal events such as our summer outing, movie sessions, and karaoke. We also fly in our out-of-towners once in a while so they can sync up with the rest of the teams. All of these ensure a strong bond among team members, before everyone heads back to their own personal workspace.
Favorite activities: Karaoke, beer, Zoolander
Altitude's general assembly at Anvaya. One of the few moments that we are all in the same room. Of course, this was moments before we all hit the beach 😀
How does your remote set-up work at your company? We'd love to hear your tips and tricks!